Description
Sapphire Radeon NITRO Overclocked RX460 AMD Polaris Graphics Card – 4GB
Sapphire Nitro Radeon RX460 4GB GDDR5 DVI-D HDMI DisplayPort PCI-E Graphics Card – 11257-02-20G
11257-02-20G – 4GB Sapphire Nitro Radeon RX460 Dual-X, 14nm Polaris, PCIe 3.0, 7000MHz GDDR5, 1175MHz GPU, 1250MHz Boost, 896 Streams
Manufacturers Code: 11257-02-20G
EAN: 4895106280144
AMD Radeon RX 460 GPU
4GB GDDR5 Memory
PCI-E 3.0 x 8 Interface
Cooler Type – Dynamic Fan
Outputs – HDMI, DVI and Display Port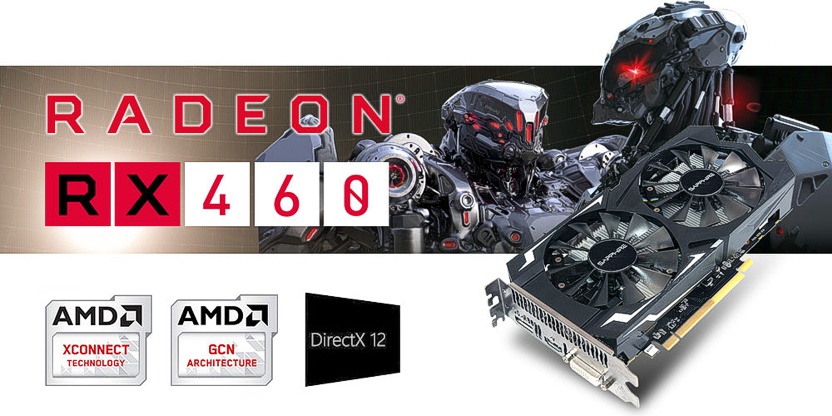 WHAT NITRO STANDS FOR
The new SAPPHIRE NITRO series is an evolution of our market-leading, award-winning, high-end graphics card technology – now made accessible for the PC gamer.
Designed from the ground up, we've crammed in everything you need (and left out everything you don't) to maximize the gaming experience for your budget. The SAPPHIRE NITRO series boasts a range of features previously reserved for high-end cards, including long-life capacitors and award-winning Black Diamond Chokes, as well as our award-winning cooling solutions. Its sleek, elegant contours have been designed to suit any build. And the latest graphics architecture from AMD ensures fast, reliable gaming, performance tuned for any level of gamer.
So whatever kind of gamer you are, the SAPPHIRE NITRO series offers you the maximum gaming experience for your budget.
---
AMD Radeon RX 460 Graphics Card
The Radeon RX 460 graphics card runs on Polaris 11 architecture and is aimed at those who still want a great gaming experience with their e-sports, but may not wish to spend quite as much. The RX 460 is much smaller than its counterparts and so will fit into the more compact PC case. It features a very low power draw (<75W) and so doesn't need an additional power supply – taking power from the PCIe slot and keeping your PC case clear of wires. The Radeon RX 460 from AMD is a great plug-and-play graphics card.
ADVANCED RX 460 GRAPHIC PERFORMANCE
Experience Polaris 10 GPU Architecture
Polaris is a new graphic architecture embedded into the Radeon RX 460, it incorporates exciting features and improvements for nearly every area of a graphics chip. It enhances the Radeon RX 460 performance, creates smooth VR, seamless support for next-gen monitors and CPU-free game streaming or recording.
ADVANCED RADEON DISPLAY
RX 460 High-Dynamic Range
Larger Colour Spaces | Higher Contrast Ratio | Higher Peak Luminance
HDR (High-Dynamic Range) technology featured in the Radeon RX 460 GPU, is a technique used when rendering computer graphic scenes. It is done via lighting calculations that are done in high dynamic range to allow preservation of details that may have otherwise been lost due to limiting contrast ratio – making games more visually accurate and appealing..
SMOOTH GPU GAMING GRAPHICS
RADEON 460 FREESYNC TECHNOLOGY
Every PC gamer knows how incredibly smooth gaming can be at a steady 60+ FPS. Now you can have that low-latency experience at virtually any framerate with AMD FreeSync monitors. The RX 460 features FreeSync tech that will free your games and their cinematics of screen tearing and help minimize stuttering.
Cool and Efficient RX 460 Performance
AMD's Polaris architecture-based 14nm FinFET GPUs deliver a remarkable generational jump in power efficiency, promising more than double the performance per watt over previous generations. Summed up FinFET helps drive to lower power consumption, enables performance per/watt innovation and enables various new kinds of products. Experience AMD's Radeon RX 460 and enjoy gaming features that dynamically optimize sound volumes based on actual temperature and workloads.
Radeon GPU Game Changing Control
Radeon Software drivers enable the ultimate in performance, features and stability and are designed to continuously improve your experience with up-to-the-minute enhancements, updates and optimizations. Push your hardware to the limits or underclock to near silent gaming with Radeon WattMan (formerly AMD Overdrive™) for a whole new level of customization and per state control over clocks, voltages, and temperature.
Specifications:
GPU: AMD Radeon RX 470 Graphics
Stream Processors: Up to 896 unit
Compute Units: 14
Boost Clock: Up to 1250 MHz
Base Clock: 1175 MHz
Memory Clock: Up to 1750 MHz , Effective 7000Mbps
Memory Type: 4096MB
Bus Interface: PCI-E 3.0 x 8
HDCP support: Yes
Firmware: UEFI BIOS
External Power: PCIe Graphic External 1 x 6 pin
Cooling System: Dual slot, Dual Fan
Bracket: Full Height
Software: Driver DVD
Dimensions:
221(L)X 123(W)X 38 (H)mm
3 x Maximum Display Monitors support
DP / HDMI / DVI-D
Features:
Sapphire Dual-X Cooling Technology
FinFET 14 Technology
Microsoft DirectX 12 Support (DirectX12 OPTIMIZED)
4th GCN Architecture (Powered by Polaris Architecture)
Vulkan API support
Virtual Super Resolution (VSR)
AMD FreeSync Technology
AMD Eyefinity
OpenGL 4.5 support
OpenCL Support
XConnect Support
HDMI 2.0b / Display Port 1.4 (DisplayPort 1.2 Certified, DisplayPort 1.3/1.4 Ready)
Dolby TrueHD and DTS-HD Master AudioTM Support
AMD TrueAudio Next Technology
System Requirements:
PCI Express based PC is required with one X16 lane graphics slot available on the motherboard.
NOTE: Minimum recommended system power supply wattage is based on
the specific graphics card and the typical power requirements of other system components.  Your system may require more or less power.
450W (or greater) power supply with minimum one PCIE 6 pin power connector is required.
OEM and other pre-assembled PCs may have different power requirements.
Minimum 4GB of system memory. Recommended 8GB.
Installation software requires a keyboard, a mouse, and a display.
DVD playback requires DVD drive and a DVD.
A display with digital input (HDMI or DisplayPort) is required.
Blu-ray playback requires Blu-ray drive a
Supported operating systems include Windows 10, and Windows 7.
64-bit operating system required.
Cooling System ( Dual-X Cooling)
Cooling Fan  90mm x 2
Dual Ball Bearing
Quick Connect Support
Cooling Module 6mm Heat-Pipe x 2
NITRO Back-Plate  No
Board Design
Power Design  4 VDDC + 1VDDCI + 1MVDD
Onsemi81022 Controller IC
Fairchild D.R integrated Mosfet
PCB Layer  6 Layers
RGB LED Self-color LED
External Power Connector  PCI-Express x 6 pin power connector
NITRO Boost settings(Default)
Engine Clock  Boost Clock 1250 MHz / Base Clock 1175 MHz
Memory Clock  1750 MHz, 7.0 Gbps
Target GPU Temperature 75C
Fan Speed  Nominal 0-1900 RPM / Maximum 3500 RPM